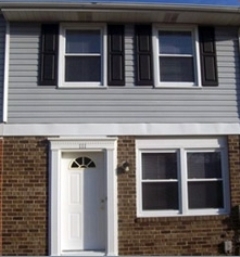 Great Townhome!
($1,150.00/month + utilities)
Description–lots of amenities including:
Two story town home. 3 Bedrooms, 1 & 1/2 Bathrooms, Living Room, Dining Room, Kitchen, Refrigerator & Stove. Washer/Dryer hook-up. Full basement with back door entrance and private off street parking.
Features: Plenty of space in this wonderful townhouse. This house is centrally located to all your shopping needs. You are very close the MD/DE line. Bright and sunny kitchen
CALL (410-287-9662) or EMAIL TODAY!
NO PETS PERMITTED.
Cecil County School District
Thompson Estates Elementary, Elkton Middle School, Elkton High School
Additional Photos (Click for enlargements then feel free to use the right and left arrows):